This detailed article is about 9 free firewood storage shed plans. If you want to store your firewood in a professional manner, you should consider these projects. We have selected the best firewood shed plans on the internet. All the plans are absolutely free, so you have to spend money only on materials. Some plans even come with real projects that are built from the instructions, so you can see the actual outcome.
If you want to keep the firewood dry and to save some space in your backyard, you should definitely consider building a shed. However, finding the right plans that are also free is a struggle. We have selected the best 9 garden shed plans, starting with the basic projects that cost under 10$, up to the large storage sheds that can store 1 cord of wood. All the plans are attentively selected, so that you don't have to worry about that.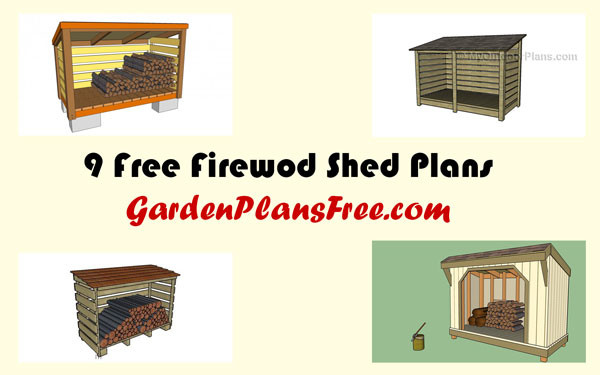 1. Small firewood rack
The first project is the most basic firewood rack you can build. If you have several 2x4s you can assemble this basic rack, so that you can store firewood. Although this rack cannot store a lot of firewood, this project is ideal for a porch or a deck that is near an outdoor fireplace. The plans are simple and well detailed. MORE >>
2. Large firewood rack
The next project is also about a firewood rack, but this is slightly larger. While it doesn't have a roof, the rack is large enough to store a significant quantity of firewood. If you are looking for a quick and cheap project (under 10$), this project is the right one for your needs. You can make several units if you have a larger quantity to store. MORE >>
3. Pallet firewood rack
This small rack can be built using pallets, so that you keep the costs under control. If you fancy this design, you should really check out the plans, that are well put down. MORE >>
4. Log store plans
This project is about a small log shed that has a roof to protect the wood from water. This shed is extremely easy to build and features a nice design, so you can place it near your home. MORE >>
5. Narrow firewood shed
This firewood shed features a basic design. The shed has a lean to roof, so that it protects the firewood from water. Also, the shed has the side and back walls protected by slats. The plans come with a complete cut list and with easy to follow diagrams. MORE >>
6. Lean to firewood storage shed
If you want a firewood shed with a lean to roof and with the side and back walls covered with slats, you should check out these plans. The plans from MyOutdoorPlans are well written and come with numerous diagrams so you can get the job done easily. MORE >>
7. Basic firewood shed – Most popular plans on the internet
This medium-sized firewood shed is the most popular project on MyOutdoorPlans. There are numerous submission from readers that have built this project, confirming the quality of the plans. Is this design is what you are looking for, you really need check out the full plans, diagrams and cut list. MORE >>
8. One cord firewood shed
This firewood shed can store up to one cord of wood without any difficulty. The shed features a front oriented roof slope, so that you can place the structure near a construction and drain the water properly. The instructions are detailed and there are numerous tips that help you get the job done with minimum effort and costs. MORE >>
9. Fancy firewood shed
The last project is a decorative firewood storage shed. If you like the design and you are willing to invest more money into this project, this might be an interesting alternative. Check the step by step plans and diagrams at HowToSpecialist. MORE >>
This woodworking project was about 9 free fire wood storage shed plans. If you want to see more garden plans, we recommend you to check out the rest of our step by step projects. LIKE us on Facebook to be the first that gets our latest updates and submit pictures with your DIY projects.