This detailed article is about 10 free greenhouse plans. If you want to start a vegetable garden or you want to protect your plants and flowers from cold weather, you should definitely consider building a greenhouse. We have selected the best free greenhouse plans on the internet. All the plans are absolutely free, so you have to spend money only on materials. Some plans even come with real projects that are built from the instructions.
If you are here, you really want a change in your life-style. Finding the right plans for a greenhouse is a tough task, as there are many options to choose from and some plans are incomplete. Therefore, we have selected the best 10 plans, starting with the basic projects that cost under 10$, up to the large barn style greenhouses. All the plans are attentively selected, so that you don't have to worry about that. The only thing you have to do is select the right ones for your needs.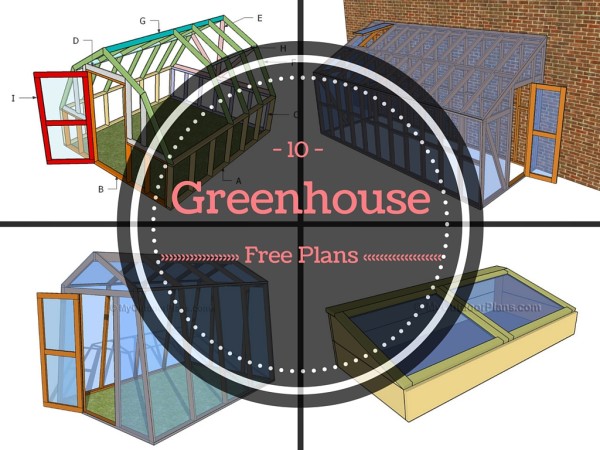 1. Simple greenhouse plans
The first project from our extensive list is about a basic greenhouse with a gable roof. This greenhouse is built entirely from 2x4s, so that the structure is extremely rigid and durable. If you have built a shed before, you would get the job done in just a few days. You can even adjust the size of the greenhouse, so that it suits your needs. If you want to basic greenhouse for your vegetables, you should check out the plans that come with detailed instructions, diagrams and a complete cut list. MORE >>
2. Barn greenhouse plans
If you want to build an unforgettable 10×12 greenhouse with a barn roof, you should definitely take a look over the plans made by MyOutdoorPlans. The project comes with easy to follow diagrams, instructions and a complete cut list. This greenhouse will become the focus point of your backyard and it will enhance the look of your property. You can keep your plants inside the greenhouse to protect them from bad weather or even grow your own vegetables. MORE >>
3. Mini-greenhouse plans
If you are a beginner when it comes to gardening or you only have a few flower pots, this mini-greenhouse is a great addition. Use 2×2 lumber and polyethylene foil to build this greenhouse. This is a great gift idea for a loved one. It only takes a few hours to build this greenhouse and the materials should cost under 10 $. MORE >> 
4. Garden bench
This project combines  the convenience of a potting bench with the advantages of a cold frame. In addition, this garden bench has storage space for pots and soil. You have an easy access to the cold frame. You can get the job done using common materials and tools, so that you can keep the costs under control. Full plans from GardenPlansFree. MORE >>
5. Covered raised garden bed bed
We selected the next project as comes with several unique features. Therefore, this raised garden bed is covered with translucent film, so that you can grow your vegetables even when the temperature drops. Use PVC to build the structure of the hoop greenhouse. You can even automate the watering process by installing a dripping system. MORE >>
6. Basic cold frame
A cold frame is the obvious choice if you are going to grow lettuce and other small vegetables. You can move the cold frame easily and anyone can build the structure in a few hours. You can even reuse an old window for the lid, keeping the costs down even more. The plans are really detailed and easy to follow. MORE >>
7. Double cold frame
A variation of the previous project can be seen in the above image. This butterfly cold frame has an unique design and is slightly larger than the previous example. You have a better access to the plans. Make sure you check out the step by step diagrams for a successful result. MORE >>
8. Large cold frame
If you want a larger construction, but still not a proper greenhouse, we recommend you to consider these plans. Use 2×2 lumber and translucent film to assemble this large cold frame in just a few days. This construction is modular so you can enhance its length. You can decrease the temperature of the greenhouse by lifting the side lids. MORE >>
9. Small greenhouse
One of the last projects is about a small greenhouse made from 2×4 lumber. As in the previous projects, you can adjust the length of the structure if you need more space for growing vegetables. You can easily install shelves to the studs, if you want to maximize the use of space. Full plans and step by step instructions on MyOutdoorPlans MORE >>
10. Lean to greenhouse
Finally, A different approach is to build a lean to greenhouse. If you are tight on space, or you want to heat the greenhouse, attaching it to the house is the right decision. Remember that you can easily modify the design and the size of the structure to suit your needs. The project comes with full instructions, diagrams and a cut list. MORE >>
This woodworking project was about 10 free greenhouse plans. If you want to see more garden plans, we recommend you to check out the rest of our step by step projects. LIKE us on Facebook to be the first that gets our latest updates and submit pictures with your DIY projects.