This detailed article is about 8 free arbor plans. If you want to crate a small recreation and retreat area in your backyard, you should build a wooden arbor. Once you select the right design for your needs, you have the perfect excuse to spend more time in your backyard. We have selected the best free arbor plans on the internet. All the plans are absolutely free, so you have to spend money only on materials. Some plans even come with real projects that are built from the instructions.
If you are here, you are looking for a simple way to add value to your home and life. Finding the right arbor plans is a tough task, as there are many options to choose from and some plans are incomplete. Therefore, we have selected the best 8 plans, starting with the basic projects that cost under 20$, up to the large arbors with swing. All the plans are attentively selected, so that you don't have to worry about that. The only thing you have to do is select the right ones for your needs.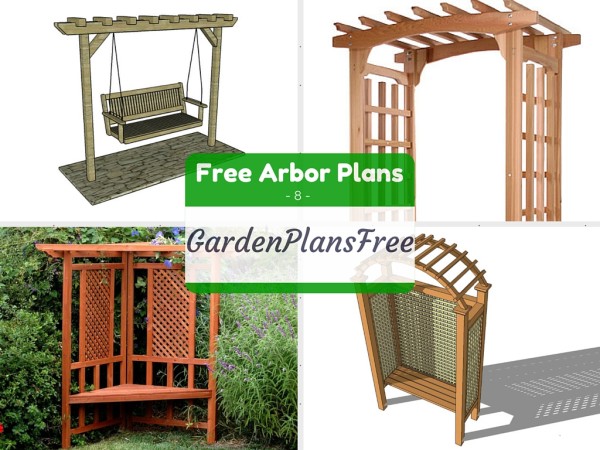 1. Simple arbor
The first project is about a basic arbor that can be built by any person using common tools and materials. You can set the posts in concrete or you can use anchors to lock the posts to footings. The top has a nice arch, so that the design is unique. Smooth the edges with sandpaper and follow the detailed instructions that come with the project. HowToSpecialist also provides a complete cut list. MORE >>
2. Basic arbor
If you want a classical design for your arbor, but still a simple project that be tackled by a beginner, you should also take a look over this alternative. You can build this arbor under 30 $ and in just one weekend. MyOutdoorPlans provides many useful diagrams and a detailed cut list, so that you can get the job done with minimum waste of materials. MORE >>
3. Peaked arbor
We continue our list with another great project. If you are willing to spend more time with an outdoor project and you aim for an unique appearance, a peaked arbor might be what you care looking for. The ends of the beams are cut in a decorative manner and the trims add value to the overall project.  MORE >>
4. Arbor with bench
The next project is a little more complex and it requires more work than the previous examples. However, it differentiates because it features a wide bench that is covered by the arbor. This structure is ideal for any backyard, if you want a quick way to create a relaxation area. the curved top beams add appeal to the arbor bench. The plans are really detailed and well put together. MORE >>
5. Arched arbor with bench
An alternative would also be to build a narrower arbor but with an arches top. This project has its unique charm and it can be assembled in just a few days. The side trellis create more privacy and it is ideal for planting some climbing roses near to the arbor. The plans are detailed and come with useful tips. MORE >>
6. Simple arbor bench
If you want to build an arbor bench, you can't really get anything simpler than this. Use 2×4 lumber for the legs and for the frame of the bench and 2x2s for the top trims. If you like the edgy design and you don't have so much time for intricate cuts, you should give these plans a shot. Free diagrams and a cut list complete the paradigm of this project. MORE >>
7. Arbor with swing
If you thought that building an arbor should be a boring process, as well as the end result, you should think again. We have found these amazing plans for you, so that you can combine the playfulness of a swing with the advantages given by an arbor. Therefore, if you like to spend many hours in nature, while reading a good book or gazing at the stars, building this arbor with swing is the perfect excuse to follow your passion. And there is more: you can easily move the arbor with the help of another person. The plans come with everything you need to get the job done. MORE >>
8. Swing stand
Finally, a different approach is to build a swing stand. If you are tight on space, or you just like this design, you should take a look over these plans. Remember that you can easily modify the design and the size of the structure to suit your needs. The project comes with full instructions, diagrams and a cut list. MORE >>
9. Swing With Bench
This woodworking project was about 8 free arbor plans. If you want to see more garden plans, we recommend you to check out the rest of our step by step projects. LIKE us on Facebook to be the first that gets our latest updates and submit pictures with your DIY projects.