This detailed article is about 5 free workbench plans. If you need a workbench for your workshop, you should consider taking a look over these projects. We have selected the best and most detailed work table plans on the internet. All the plans are absolutely free, so you have to spend money only on materials. Some plans even come with real projects that are built from the instructions, so it is a double win.
If you build projects for your home, chances are you need a proper bench when you can make safe and accurate cuts, as well as assemble the components together. However, finding the right plans that are also free is a struggle. We have selected the best 5 workbench plans, starting with the basic projects, up to the complex miter saw stands. All the plans are attentively selected, so that you don't have to worry about that.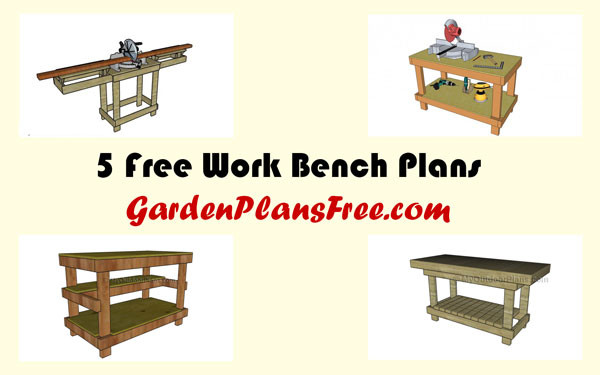 1. Basic Workbench Plans
The first project is about a basic workbench that only requires 2x4s and 3/4″ plywood. Cut the components at the right dimensions and lock them together using 2 1/2″ screws. You can adjust the size of the workbench with ease. The workbench is sturdy and has a lower storage shelf. the plans come with step by step diagrams, easy to follow instructions and a complete cut list. More >>
2. Workbench with shelf
The next bench is a variation of the previous model. The main difference is that it features another storage shelf for keeping your tools and other items. The bench is sturdy and easy to build, so that any person with common skills can get the job done. The plans are really detailed, containing everything you need for a professional result. More >>
3. Miter saw stand
If you need an work table for you miter saw, these plans are the answer to your problem. Extremely easy to build, this sturdy table has adjustable supports, so that you can create a level surface with the saw deck. The plans come with a cut list and with numerous diagrams. More >>
4. Workbench made from 2x4s
This workbench is built entirely from 2x4s. If you want a sturdy work table with a rustic design, you should pay attention to these plans. Glue the slats for the tabletop together and them plane the surface thoroughly. The plans come with all the information you need for a professional result. More >>
5. Heavy-duty workbench
This heavy-duty workbench features strong cross-braces. The legs are made from 4×4 lumber to add rigidity and support to the structure. The plans are well-documented and they provide a complete cut list. More >>
This woodworking project was about 5 free workbench plans. If you want to see more garden plans, we recommend you to check out the rest of our step by step projects. LIKE us on Facebook to be the first that gets our latest updates and submit pictures with your DIY projects.