This detailed article is about 10 free chicken coop plans. There is no catch: we have selected the best chicken coop plans on the internet for you. All the plans are absolutely free, so you have to spend money only on materials. Some plans even come with real projects that are built from the instructions, so it is a double win.
If you plan on raising chicken in your backyard, you should probably take a look over these free coop plans. Starting with the basic projects that cost under 100$ and can host several chickens, up to the large coops with runs, you have 10 options to choose from. All the plans are attentively selected, so that you put the first brick right.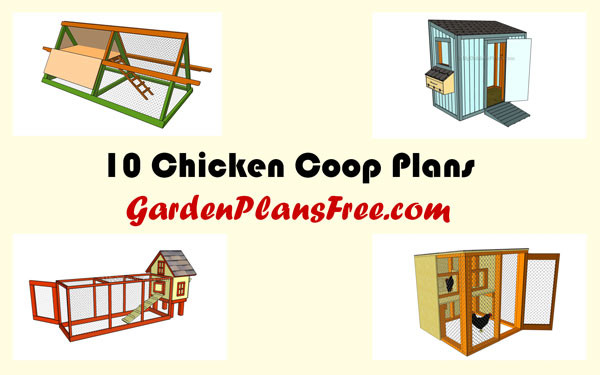 1. Chicken Next Box Plans
The first project we found on internet is regarding a nesting box. If you have limited resources or space, you can assemble this box using common materials and tools. See step by step plans along with a cut list HERE.
2. A-frame chicken coop
If you want something bigger and fancier, but also have the convenience of a movable construction, an A-frame chicken coop might be something worth your time. This coop can host 3-4 chickens. It features a side door to the nesting area, so you can have easy access to the eggs.
In addition, you can move the chicken coop from one location to another without much effort. Click here to see the step by step plans with detailed diagrams and a complete cut list.
3. Small mobile chicken coop
A variation of the previous project can be found here. This chicken coop features handles on both sides, so you can move it easily in your garden. The A-frame chicken coop is simple to build and it shouldn't cost more than 100$. You can even get the job done with recycled materials. Full plans HERE.
4. Basic Chicken Coop
The next project is slightly bigger and more complex. This basic lean to chicken coop is ideal if you want a permanent construction for a few chickens. If you have limited woodworking skills and tools, this is the right project for your needs, as it doesn't require intricate cuts.
The free plans come with step by step instructions and easy to follow diagrams. Everything you need to know, starting with tools, materials and tips is included in the plans. See here the project.
5. Beautiful chicken tractor
If you want a chicken coop with a pleasant appearance, you should take a look over these plans. The chicken coop is large enough to host up to 10 chickens. It features side openings and a beautiful gable design.
As in the previous cases, the plans are free and come with detailed instructions and a complete cut list. There are numerous tips that help you choose the right solutions for your needs. MORE >>
6. Raised chicken coop
This lean to chicken coop is medium-sized. It features a nesting box for easy egg collection and a front door for chickens access. Free plans along with a cut list and many tips can be found HERE.
7. Chicken coop with run
This diy backyard chicken coop is one of the projects we recommend, as it offers both space efficiency and a great design, while keeping the costs under control. the chicken run is covered, so the chickens are protected from bad weather. You have easy access to the chicken coop by using the back door. The coop is lifted from the ground, so the chickens are protected from moisture.
The chicken coop run has a large front door, so you can have an easy access. Check out the free plans here. The plans are very detailed and come with everything you need to know for a successful project.
8. Insulated chicken coop
This chicken coop has a few particularities compared to the rest of the projects. First of all, it is an insulated chicken coop, so that the hens will have termic comfort even during winter. Moreover, the chicken coop features an under roof storage space, so you can make most of the project. What is great about these plans is that they actually built this coop. You can see the steps and learn from their experience building the coop.
In addition, the plans also include plans for the chicken run. While this is a small chicken coop (ideal for several chicken), it is a complex project with a lot of added value. The decorative trims enhance the look of the coop and it will make your project a real conversation topic. See HERE free plans and instructions for building this chicken coop. 
9. Chicken coop shed
This chicken coop shed is the real thing is you are serious about raising chicken in your garden. While the costs for this project are significantly higher (around 300 $), the shed will be sturdy, durable and large enough to keep many chickens.
In addition, the front door allows you to enter into the coop and clean it every time you want. The nesting box has a door for easy access to eggs. See HERE the step by step plans which are free and properly documented.
10. Large chicken coop
The last chicken coop is a large shed project similar to the previous one. The attention to details is impressive, so you can make this project the attraction of your backyard. See HERE how to build the chicken coop shed.
This woodworking project was about 10 free chicken coop plans. If you want to see more garden plans, we recommend you to check out the rest of our step by step projects. LIKE us on Facebook to be the first that gets our latest updates and submit pictures with your DIY projects.