This detailed article is about 7 free small garden shed plans. If you want to build a small storage shed for your garden, these plans might come handy. I have selected the best small garden shed plans on the internet, from 4×4 sheds to 8×12 short shed. You can choose from lots of designs and sizes, so make sure you take a look over this list. Some plans even come with real projects that are built from the instructions.
If you are here, you really want a change in your life-style. Finding the right plans for a small shed is a tough task, as there are many options to choose from and some plans are incomplete. Therefore, we have selected the best 10 plans, starting with the basic projects that cost under 10$, up to the large barn style greenhouses. All the plans are attentively selected, so that you don't have to worry about that. The only thing you have to do is select the right ones for your needs.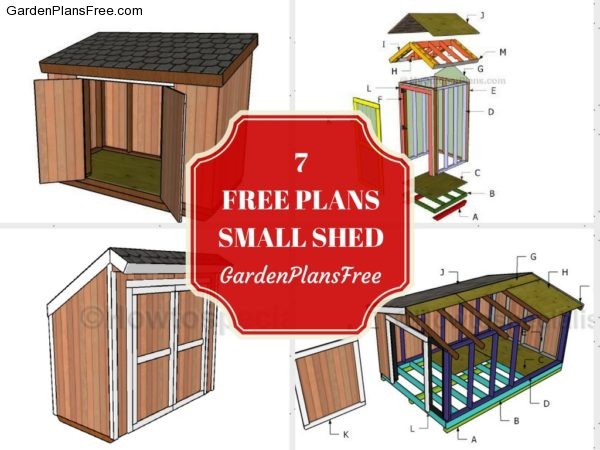 We start the list with this awesome, awesome project. This 6×6 storage shed is one of the first plans I have designed on this blog, so I cannot start the list with other project. If you want a small storage shelter for your backyard, where to store all your tools, this is the right pick. The project comes with super detailed instructions and diagrams, so you can follow as you build it. READ MORE >>
I have selected this small and short 8×8 barn shed, as soon I have found the free plans on MyOutoorPlans.com. I really like the idea and the execution of this garden shed, as it is not just about creating storage space in your yard, but also about style. Speaking about style, this shed will most certainly enhance the look of your backyard. This shed will add value and impress all your friends with its looks. READ MORE >>
If you need fairly more storage space in your backyard, you can give this 8×12 shed a chance. The shed has short walls and features a nice gable roof. This shed is not all about the looks, but all about utility. If you have a tight budget or if you want a straight forward project, this shed will really help you get the job done in these parameters. READ MORE >> 
Another project from MyOutdoorPlans made it to the list. This is a really pretty 4×8 shed, as it features short walls, a lean to roof and double front doors. You can build this shed fairly inexpensive and I am sure you can save a ton of space by placing it next to an already existing building or next to the property line. The step by step plans are easy to follow and come with a complete list of materials required for the project. READ MORE >>
In the top 7 this 4×4 shed also made it! If you want a small storage space, this shed is the ideal choice. As you can easily notice in the diagram, this 4×4 shed features a front door and a gable roof. The gable roof will drain the water properly and the front door is ideal for an easy access to the interior. Work with attention and check all the instructions and diagrams. READ MORE >>
Another great project from HowToSpecialist made it to this list! Doesn't it look amazing? This 4×8 saltbox shed is an amazing addition to any backyard. The front overhang protects the front of the shed from water damage. Moreover, the double doors healps you have a super easy access to the interior. In this manner, you can store inside all kind of items, from shovels to lawn mowers! READ MORE >>
Last but not least, I have added this 4×8 shed with gable roof to the list. This storage shed has a super nice shape and it features a lot of space for keeping your garden tools safe. If you have a narrow backyard, this shed will utilize the storage space efficiently. The shed features a front storage door and a gable roof. READ MORE >>
This woodworking project was about 7 free small storage shed plans. If you want to see more garden plans, we recommend you to check out the rest of our step by step projects. LIKE us on Facebook to be the first that gets our latest updates and submit pictures with your DIY projects.